Nowadays there is nothing remarkable about a regional airport, there are many throughout Europe and people have forgotten what it was like to have to travel to a major city to get a flight to anywhere.

Many people have also forgotten, or perhaps have never known that one of the airports that started the boom in regional airports and budget airlines was built on a boggy hill in the west of Ireland by an astounding man Monsignor Horan.
This was his dream and he wanted the Shrine at Knock to be accessible to American Irish across the Atlantic. If he had not succeeded, and many thought he would not, he would have been thought to be quite mad! It was soon a source of amusement that the Monsignor was building an airport, but slowly the runway appeared out of the bog as tons of hardcore were spread and the project grew rapidly. It was rumored that if a truck arrived with a load of rock they were paid cash and no questions asked which promptly created a great supply of material.
Critics (there were many,) regarded the idea of an airport on a "foggy, boggy site" in Mayo as unrealistic, but funding
was approved by then Taoiseach, Charles Haughey, who performed the official opening in May 1986, five years after work commenced. Although Horan had secured IR£ 10,000,000 in funding from Haughey, following the Fianna Fáil party's defeat in the general election of 1982, his funding was cut, with the airport unfinished.
Horan raised the IR£4,000,000 shortfall by holding a "Jumbo Draw". This large lottery succeeded in raising the required revenue, but only after a painstaking tour of several countries, including Australia and the United States. This took its toll on the ageing Horan and led to his death shortly after the completion of the airport. The airport was originally known as Horan International Airport, but is now officially referred to as Ireland West Airport Knock.
The airport opened on 25 October 1985 with three Aer Lingus charter flights to Rome: the official opening was on 30 May 1986. It was remarkable how one man was motivated by a vision and achieved his goal against all odds.
One of the assets of Knock Airport was that, although it was not close to anywhere it was not far from anywhere,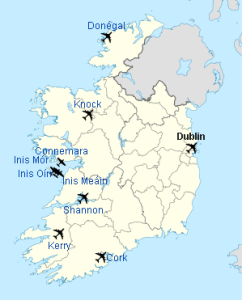 Donegal, Connemara, Galway and Castlebar, the west and northwest coasts are all a reasonable drive from the airport, much easier than Dublin.
Very early on Ryanair started using the airport as a major hub for their Irish flights and this made trips to the UK and Europe much easier and upped the profile of the airport which now ranks the 4th busiest in Ireland.
During the building boom in the late nineties there was an increasing number of people using the Airport to commute to well paid construction jobs in the UK and the return flights brought many visitors wishing to explore the now easily accessible West Coast of Ireland. It is no coincidence that at this time Connemara Coastal Cottages was founded (in 1996) and had the first Holiday Cottage Rental website in the West Of Ireland as demand for online holiday information increased.
Knock Airport is a great place to fly to in order to visit Connemara, there are plenty of flights and the drive to Connemara is an easy one, going through Castlebar, Westport and the stunning Errif Valley and Killary Harbour. By the time you arrive you will be ready to relax and enjoy your holiday in the West Of Ireland. All down to a mad Monsignor.
Knock Airport is 40 minutes from Castlebar, 50  minutes from Westport, 1 hour 30 minutes from Belmullet 1 hour 20 minutes from Leenane and 1 hour 45 minutes from Clifden