Food Trucks In Connemara
It is very hard to know when the food vans started appearing in Connemara, but if I am not mistaken "The Misunderstood Heron" was the first. They started near the Killary Adventure Centre in a spot which had easy parking, along with a stunning view.
Opened by Kim & Reinaldo a husband-wife team in 2017, this award-winning food truck is a unique place to travel to for creative Irish food and top quality Irish roasted coffee while being immersed in amongst Connemara's wild mountains and sea vistas.
Slowly but surely food trucks started to appear throughout Connemara, each one with a unique identity and their own take on food. Food trucks are a great way for people to move in to their own food business having gained the necessary experience in catering and cheffing, but without the massive financial commitment and other problems involved in leasing a premises to open a restaurant. Also various lockdowns made people move more outside, and many restaurants closed down. The classic "burger van" is no more, the new style is unique and interesting food made from top quality ingredients and brought to you by people that are committed to their brand and style of cooking.
One of these many food trucks is a great place to eat if you are taking a tour of Connemara. If you are cycling or walking around you are never too far from one. There is no booking yet many serve food on a par with a restaurant, leaning towards locally sourced and freshly made foods. What better way to fill the gap after a brisk walk.
Here is a rough list of the food vans we know of. They are literally a moveable feast, so locations and times may vary, but that is part of the fun of visiting the eclectic mix of mobile catering available.
Most of these businesses have up to date information about location and opening times available on Facebook and Instagram
The Misunderstood Heron Leenane.
A very popular spot, close to the Killary Adventure Centre on the Clifden side of Leenane. You will see the Truck and seating from the road.
Fantastic Menu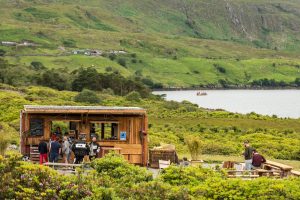 Little Fish Food Truck Letterfrack.
Little Fish is a new food truck based beside the pier in Letterfrack, Connemara. They use local produce and are serving up fresh fish and chips along with specials such as calamari spice bags, buffalo prawns and hake tempura fish sambos. Open Thurs-Mon from 1pm.
Dooncastle Oysters Seafood Trailer,
Dooncastle Oysters is a well known supplier of oysters in Connemara. John Ward, the owner has developed close associations with top Chefs in Ireland over the years and this Food Trailer is a synthesis of the two! Located opposite Kylemore House beside the Lake.
Fado Pizza
Wood Fired Pizza Trailer in Connemara! Serving take-away a great variety of delicious pizza in the beautiful Clifden Camping & Caravan Park H71 TP08 (Shanaheever, just outside of Clifden on the Westport Road)

Phoebes Bakery Truck


Check out this bakery and pattiserie truck. Saturday and Sundays in the Inagh Valley, Fridays in Clifden. Delicious baked goodies.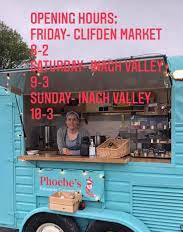 Le Crepe Wagon
Appearing at Clifden and Roundstone Markets this interesting food caravan can also appear at other places and events around  Connemara so keep a lookout for the distinctive yellow caravan which sells tasty pancakes. 

The Coffee Corral
A small family run horsebox coffee shop, equestrian themed. Connemara ponies and a few pet sheep roaming about. serving great coffee , home baked treats and cold drinks. Cloghanard, just outside of Clifden on the Sky Road.


Wildfolk Connemara
Wild, vegetarian and vegan foods delivered with style at the Quay in Clifden.
Wildfolk, set up by Hannah O'Sullivan, is a healthy, nourishing, and sustainable food enterprise, with the intention of marketing some homegrown delights.
The Pink Wagon Derrygimla
Go for a walk at the historical Derrygimla walk where you can see how trans Atlantic radio was first developed. Then stop at the Pink Wagon to fill the gap caused by all that walking! The Pink Wagon sells tea and coffee, All day breakfast, burgers and chicken specials, lovely takeaway food and all meats locally sourced.
Good Stuff Roundstone
A food trailer located in the Michael Killeen Park, Roundstone. Serving speciality coffee, toasties, homebaked goods and fresh salads. Anywhere that has "Soft moist cake with pockets of cinnamon butter & crunchy pecans drizzled with icing" on the menu is worth a visit!
Diamond View Coffee
Situated on the Baunoges road on the Clifden side of Letterfrack. Serves great coffee and Ice Cream. The post code H91A3K6 will help you find them.
We cannot guarantee that all of these details will remain the same, and you can be sure that there will be more Food Trucks pop up in due course, but what better way to add to a walk than to enjoy lunch at one of these imaginative and interesting places.